You know that it's high time for you to take that vacation you've been talking about. If you're reading this article right now, odds are you're at least entertaining the idea of a yoga vacation in Costa Rica. You've probably read that we get a lot of rain May through October. However, our location on the Caribbean Coast has amazing weather and makes us the best yoga retreat in Costa Rica during this time of year!
It's not a very well-known fact that Green Season is the best time to visit our area. It's like being privy to a well-kept secret that other travelers don't know about! Here's why we know our Green Season will give you a vacation you won't soon forget:
1. The Weather Is Amazing
In general, "High Season" for Costa Rica is November through April. Yogis and vacationers alike flock to the equator during times of less sun and lower temps up North.
Many travel websites recommend avoiding Costa Rica during Green Season because there's so much rain. However, lots of people don't know that while most of Costa Rica is getting buckets of rain from the sky, the Southern Caribbean Coast has nearly perfect weather for a Caribbean yoga retreat!
Costa Rica has many microclimates, so even while the rest of the country gets more rain, our neck of the woods is actually drier and gets more sun than most of the rest of the country. Mornings in the Cahuita area are sunny and bright, and the temps are generally a bit cooler, making The Goddess Garden the best yoga retreat in Costa Rica during Green Season.
If it does rain, you can spend the afternoon doing yoga in our open-air studio, or kicking back in a hammock with a book while enjoying a fresh cup of Costa Rican coffee. Also, a rainstorm in the jungle is something everyone should see at least once!
2. You Won't Break the Bank
A big concern for travelers these days is the cost of an international vacation. It can be pricey to get yourself to paradise. But during Green Season, you will pay less for flights and sometimes even for things like ground transportation, food at restaurants and local goods and services.
We believe in making your trip affordable any time of year, but May through October, you could save huge on travel expenses, so you can rest easy knowing you've found the best yoga retreat in Costa Rica and you didn't break the bank doing it!
3. Fewer People = More Bliss
Since most people think it's too hot or rainy to be in Costa Rica during the summer and fall, it's a far less busy place to be. In our opinion, this piece is what makes ours the best yoga retreat in Costa Rica.
Fewer people around means it's like having your own personal paradise! What better environment for you to focus on your practice and having a relaxing, rewarding experience?
If there are fewer people, there are more booking options for the Goddess Garden, it's easier to get around, and it's less stressful. All this adds up to maximum relaxation and inner peace for your vacation.
4. Service is The Tops!
Fewer guests at The Goddess Garden and on our eco tours means more personalized service. This translates to more of that laid-back Caribbean vibe, which will only add to your ability to find Zen at the best yoga retreat in Costa Rica.
Also, truth be told: locals who aren't burned out by being inundated with huge crowds of tourists every day are more likely to treat you well and give you a more authentic experience. That's an all-around win-win for your vacation!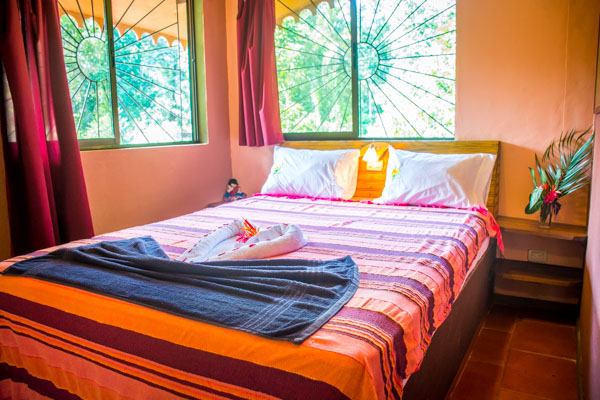 5) Costa Rica Comes Alive During Green Season!
The time of year that brings the most rainfall is when the rainforest is at its most lively and vibrant! Locals call it "Green Season" because everything is lush, in bloom, and thriving. And The Goddess Garden is built right in the midst of this magical place, making ours the best yoga retreat in Costa Rica to be at this time of year!
Green Season is a time of abundance for Costa Rica. It's when our beautiful country positively teems with life. Coffee harvest happens, sea turtles nest and hatch March to July, plants are at their most beautiful, and wildlife abounds because their habitat is so plentiful. The best time to visit the best yoga retreat in Costa Rica is definitely when the rainforest is at its most breathtaking!
"Green Season" in Cahuita, Costa Rica means awesome weather, less crowding, better service and stunning surroundings. This all translates to the best yoga retreat in Costa Rica, and an awesome vacation that you'll want to keep coming back for year after year!