"If you sit on the porch of your room, you can see nature unveiling itself for you. With monkeys playing on trees, toucans flying by, and sense of love hitting your heart. And then you walk to the pristine beach and there is no one there except you with the ocean and the palm trees, reminding you that we are one with the universe. Where can you find this? In Costa Rica."
-Jacqueline Bürkler – Founder & Owner of The Goddess Garden
Welcome to The Goddess Garden, a sanctuary in Cahuita, Costa Rica, where the magic of nature and the transformative power of retreats come together in perfect harmony. In this blog post, we will explore five compelling reasons why hosting your retreat at The Goddess Garden is an experience like no other.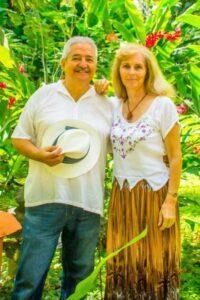 1. Expertise
Jacqueline, a visionary with an extraordinary gift, has artfully shaped The Goddess Garden into a testament to her artistic brilliance. However, the inherent beauty of this place existed long before, patiently awaiting its rightful recognition. In honor of the suppressed feminine energy that has endured throughout history, we bestowed upon our property the name "The Goddess Garden," seeking to give voice to this divine essence that deserves to be celebrated.
Since 2008, The Goddess Garden has stood as the ultimate destination for over 700 retreats and Yoga Teacher Trainings. From the moment you set foot in Costa Rica, our unwavering commitment is to cater to your every need. Nestled in Cahuita, Costa Rica, The Goddess Garden transcends being merely a yoga teacher training center and yoga retreat center; it is a sacred haven dedicated to yoga, meditation, and personal transformation. With over 15 years of experience hosting retreats, we possess the expertise to ensure that you depart with cherished memories and a renewed spirit.


2. Professional Facilities and Accommodation
At The Goddess Garden, we have crafted a sanctuary with meticulous attention to detail, specifically designed to cater to groups of up to 50 individuals. Our retreat center offers three unique yoga spaces, each tailored to meet your specific needs.
Immerse yourself in the beauty of nature as you enter our spiritual center, a two-story structure with panoramic views of the surrounding rainforest. This extraordinary setting creates a profound sense of connection and allows you to fully engage with the natural world during your yoga and meditation sessions.
Our largest yoga space is carefully furnished with top-of-the-line yoga props and cutting-edge sound systems, ensuring a comfortable and immersive experience for up to 50 participants. This spacious area provides ample room for your yoga practice while maintaining a serene ambiance.
For a truly enchanting experience, we have a circular yoga pavilion nestled harmoniously within nature's embrace. With an exquisite wooden floor, this unique space offers a serene and intimate atmosphere, perfect for smaller group sessions or individual practices.
In addition to our yoga spaces, we provide a versatile conference room equipped with air conditioning. This multi-functional venue is ideal for a variety of activities, including film screenings, themed events, and meditation sessions. The comfortable setting and modern amenities create an ideal environment for productive meetings and engaging group discussions.
At The Goddess Garden, we have created an oasis dedicated to enhancing your retreat experience. With our thoughtfully designed yoga spaces and versatile conference room, we strive to provide an environment that fosters personal growth, relaxation, and connection with nature.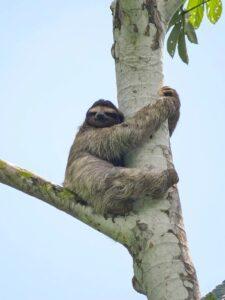 3. Natural Beauty, Biodiversity, and Wildlife
Costa Rica, a true paradise on Earth, captivates with its awe-inspiring natural beauty. The country is renowned for its magnificent features, including lush rainforests, pristine beaches, towering volcanoes, and soothing hot springs. It is a destination that truly showcases the wonders of the natural world.
One of the remarkable aspects of Costa Rica is its exceptional biodiversity. Hosting nearly 6 percent of the world's biodiversity, the country provides a haven for a remarkable variety of plant and animal species. Costa Rica's commitment to conservation is evident in its system of National Parks and Reserves, which cover an impressive 25% of the land area. Within these protected areas, visitors have the opportunity to encounter some of nature's most fascinating creatures.
The forests of Costa Rica are home to enchanting sloths, playful monkeys swinging through the trees, vibrant scarlet macaws filling the air with their colors, and the strikingly beautiful poison dart frogs, displaying an array of captivating hues. These are just a few examples of the diverse and captivating wildlife that can be found in this extraordinary country.
For nature enthusiasts and wildlife lovers, Costa Rica offers an unparalleled experience, allowing you to immerse yourself in the wonders of the natural world and witness the incredible diversity of life that thrives within its borders.
Information: Click Here
4. Adventure and Excursions
In Costa Rica, the possibilities for adventure are endless. Picture yourself strolling along pristine beaches that seem to stretch on forever. Embark on captivating tours of national parks, where you can witness the wonders of untouched wilderness. Ride the waves and master the art of surfing with exhilarating lessons. Dive into the vibrant underwater world through exciting snorkeling expeditions. Feel the adrenaline rush as you soar through the treetops on thrilling ziplining adventures. Explore calm coastal waters with kayaking escapades. Gather around beach bonfires under the starlit sky, creating unforgettable memories with friends and loved ones. Seek the thrill of white water rafting and conquer untamed rapids. Embark on nature hikes to majestic waterfalls, immersing yourself in the serenity of the lush surroundings. Experience the magic of horseback riding along the sandy shores, embracing the beauty of the coastal landscapes. Delve into the world of wildlife conservation by visiting sloth and animal sanctuaries. Engage in tropical bird and dolphin watching, where you can witness these remarkable creatures in their natural habitats. Venture into Indigenous reserves and partake in chocolate tours, discovering the rich cultural heritage and delectable flavors of the region. Costa Rica offers an abundance of activities that cater to every adventurer's dream, promising an unforgettable experience in this captivating paradise. See more about our available eco-tours: https://thegoddessgarden.com/ecotours/
5. Sustainable Practices
The Goddess Garden is situated across a 14-acre area, strategically utilizing the natural clearings within the forest for building placement. To reduce electricity consumption, solar panels are used to heat the water in the rooms. Our restaurant primarily offers vegetarian cuisine, featuring locally grown organic vegetables and fruits. We also actively participate in composting our organic leftovers, repurposing them as fertilizer for our garden. We recognize that every effort to conserve energy minimizes our impact on Mother Earth. As part of our commitment, we embrace the traditional practice of sun-drying clothes whenever possible.
Our Retreat Leaders 
The true testament to the excellence of hosting a retreat at our center lies in the unwavering loyalty of our esteemed retreat leaders. Year after year, these exceptional individuals choose to return to our center, a testament to the exceptional experiences we offer. We hold our retreat leaders dear to our hearts and are immensely grateful for their continued trust and preference.
We are thrilled to give a special mention to two incredible retreats in Costa Rica. First, we want to celebrate Moti Zemelman's Contact Improvisation Retreat, which has been successfully taking place for a decade. The second retreat worth acknowledging is Chandra Cantor and Robin Shaw's Costa Rica Yoga Retreat, now in its impressive 12th year. We cannot express enough gratitude for the exceptional leadership provided by these retreat organizers. If you are interested in attending a retreat at our center, check out: https://thegoddessgarden.com/yoga-teacher-trainings-group-retreats/
So, whether you are a retreat leader seeking a transformative space or an individual looking to participate in a retreat, The Goddess Garden in Costa Rica is the perfect destination to connect with nature, experience personal growth, and create lifelong memories. To learn more about hosting your retreat at The Goddess Garden, please visit: https://thegoddessgardengroups.com/