You love yoga, right? Of course! You probably wouldn't be reading this if you didn't. It's possible that you even love yoga enough that you have thought more than once about becoming a teacher. This decision is one that shouldn't be taken lightly, and maybe you've thought for months about it but just haven't taken that leap yet. It's hard to know when you're truly ready for this kind of commitment and life-changing experience.
We've put together a few ways to help you know whether you're ready for a 14-day yoga teacher training.
Who Should Do a Yoga Teacher Training?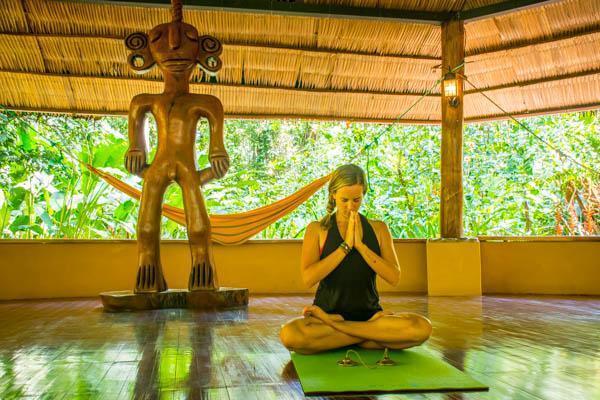 Honestly, a yoga teacher training is an excellent way to grow any practice. For a serious yogi, a 14-day yoga teacher training could change your relationship with yoga and yourself forever. Obviously, if you feel a calling to guide others through their practice and build a career for yourself in yoga, this is for you. 14 days is the perfect amount of time to learn everything you need to safely teach classes and help bring the happiness that is yoga to your students.
However, even if you don't plan to teach, a yoga teacher training in Costa Rica can still be perfect for you. Anyone who wants to make yoga a consistent part of life can and will benefit from an immersive experience like the ones we offer.
Two weeks of total dedication to your practice is guaranteed to change your life. If you feel like you've just scratched the surface of what yoga and meditation can mean for you and your path, this is the perfect push to dive deep and get serious.
Why Your Level of Yoga Skill Doesn't Matter
Of course, it's likely not a great idea to show up to your 14-day yoga teacher training with zero experience on the mat. A working knowledge of asana and meditation is definitely going to be a leg up, and you should probably feel comfy in an intermediate yoga class before you sign up. But, everyone does learn at their own pace. There's no hard and fast rule for how many poses you know or how much time you spend on your mat every day.
Your desire to learn is likely a huge motivating factor for considering a yoga teacher training. In some ways, your thirst for knowledge and self-growth can be more important than your level of skill when it comes to being ready for a yoga teacher training. What's most important is your desire to push yourself and to genuinely be interested in learning about all the aspects of yoga.
What You'll Learn
14 days may not seem like a lot, but it will be an intensive 14 days. Your 200-hour yoga teacher training will create a strong foundation from which you can teach yoga safely, confidently and knowledgeably. You'll learn the basic principles of yoga and gain an understanding of the essential elements needed to deepen your inner awareness in order to be an authentic guide to others.
This is true immersion at its finest! You'll learn how to embody what you teach, and how to effectively reach other yogis with your unique message.

Some of the key things you'll learn during your time in training:
*anatomy and physiology of the human body
*meditation techniques
*pranayama techniques
*how to sequence a class
*how to safely and effectively offer adjustments
*business and ethics of teaching yoga
*philosophy and history of yoga
After you complete your training, you'll receive a certificate of completion and be eligible to register with the Yoga Alliance as a Registered Yoga Teacher (RYT-200).
The Average Day During an Immersion Yoga Teacher Training
We definitely pride ourselves on being an ideal location for a yoga teacher training. After all, our resort is nestled next to the ocean amidst a gorgeous tropical rainforest. It will be easy to make your 14-day yoga teacher training feel like a vacation. However, you definitely want to be ready to work hard while you're here. Since our trainings are a bit shorter than most (typically immersions are a month or more), we have lots of work to do in a relatively short amount of time. But we guarantee, it will all be worth it.

A typical day of yoga teacher training consists of:
*a morning yoga and meditation practice
*instruction through workshops, lectures, and discussion groups
*philosophy of yoga
*practicum (practice teaching to fellow students and others)
*some daily free/study time
*3 healthy, vegetarian meals per day
Why Fear Is a Great Motivator
It can be intimidating to make this kind of commitment. A 14-day yoga teacher training in Costa Rica means dropping your life at home to head to a foreign location, share space with total strangers, and learn an entirely new skill. But something this big should make you a little scared. It's natural to have fear of the unknown, but hopefully your fear is mixed with excitement and a bit of a rush for what's ahead.
That's how you'll know you're ready for this plunge. If you can't wait to get on your mat every day, if you're so excited about yoga and what it means in your life that you can't stop talking about it, if you're ready to be transformed by yoga and meditation, then it's time to do the scary thing. You won't regret this decision!
The decision to jump into a 14-day yoga teacher training can be a big one. There are many questions that will be left unanswered until you actually get here and see for yourself. But as long as you have a love for yoga, and a desire to see just how positively it can affect you and your students, this is the right place for you. If you're ready for a truly transformative adventure in Costa Rica, check out our upcoming trainings to find the right fit for you. We can't wait for you to join us!