Palo Santo is a sacred wood that comes from the magical Palo Santo tree, native to the coast of South America. Its name literally means holy wood, and it is just that. When it is burned, the smoke is believed to have both medicinal and therapeutic healing power. Traditionally, it is burned by Incas, indigenous people of the Andes, Shamans and medicine people for spiritual purifying, energy cleansing and healing. Some of the most well-known Palo Santo uses include inspiring creativity, evoking protection, infusing blessings and bringing both love and good fortune. It is a wonderful tool to use before and during your meditation. Its uplifting scent helps to raise your vibration to bring a deeper connection to the Earth and your divine source.
For physical healing, Palo Santo benefits include relieving symptoms of common colds, stress, headaches, anxiety, inflammation, emotional trauma and more. It is also wonderful for setting and sealing in your intentions with. We also like to use it while clearing our crystals and our jewelry!
One of the most amazing aspects of the magical Palo Santo Wood is that it is wild harvested by a family that has planted over 30,000 trees in Ecuador over the last 10 years. The Palo Santo wood comes from naturally fallen trees and branches that lie dead for 4-10 years before they are harvested. This ensures a very high-quality product that is constantly surrounded by love and respect.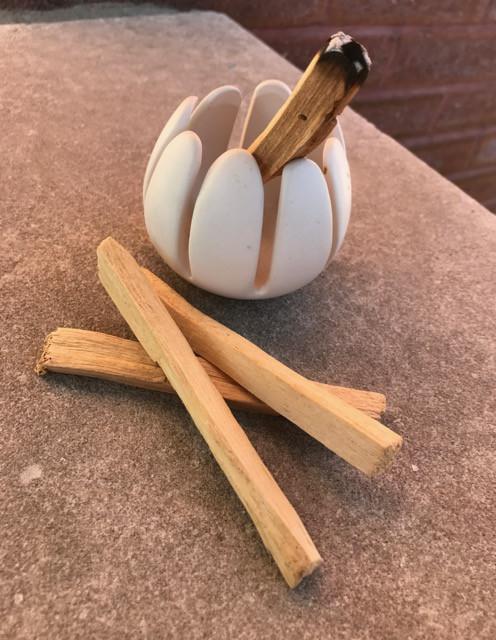 How to Use Palo Santo
The Palo Santo uses will provide energetic protection, remove any bad energy, uplift your spirit and fill your home with blessings.
Light your Palo Santo stick.
Let the stick catch fire, and allow it to burn for about 30 seconds. Then, gently blow out the flame. If needed, you can blow on the embers to keep the smoke going throughout the process.
Say aloud or silently, "I ask that the plant spirit of Palo Santo please infuse this space with blessings."
To fill your space with blessings, start at the front door and walk clockwise through it with your Palo Santo. To bless yourself, your space or crystals, simply allow the smoke and rich smell of the Palo Santo to fill the room.
When you are finished, place your Palo Santo stick in a fireproof container. The glow at the end of the stick will eventually go out on its own. Unlike conventional incense, which burns out completely after lighting it, your Palo Santo wood may be relit many, many times.
In The Goddess Garden we bring Palo Santo from South America for you. You can get it at a low cost in our office. Try it!
For more info visit
https://www.energymuse.com/blog/palo-santo-uses/