Chances are, if you are planning a Yoga Vacation in Costa Rica, you care about the impact your visit will have on the environment during your travels. As a conscientious yogi, you want to create a positive effect on the places you visit. Your decision to come to Costa Rica is already an eco-conscious one, since we pride ourselves on being a global leader in sustainability and renewable energy.
Some things on this list are no-brainers such as bringing your own water bottle or using public transportation. But there are ways to travel green that you may not know about yet! Read on for some simple tips to reduce your footprint and even have more meaningful experiences on your journey.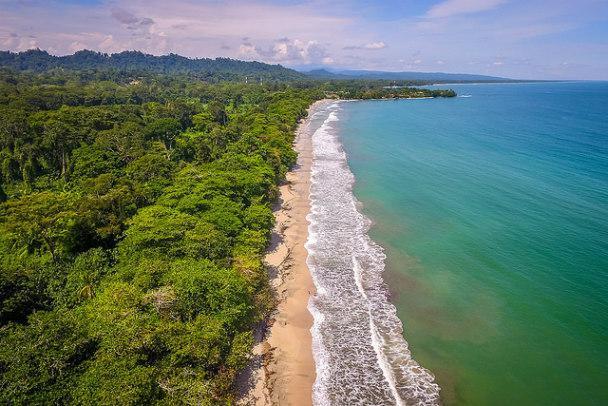 10 Ways To Use Less Plastic and Waste During Your Yoga Vacation in Costa Rica
1. Eat Locally Sourced Food
This is a great way to support our local farmers and get a more authentic taste of our cuisine. Not to mention that locally sourced food doesn't have to be transported internationally, so there is less of a carbon footprint per snack or meal.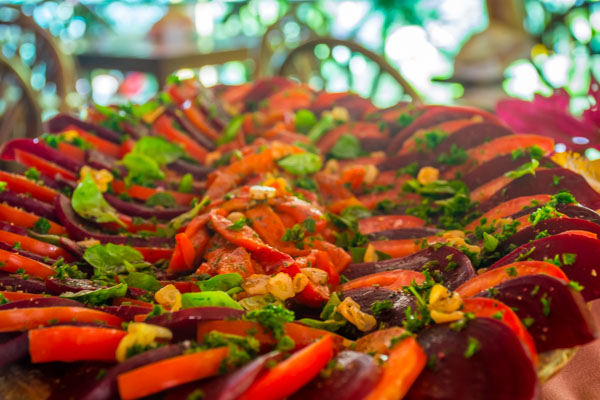 At The Goddess Garden, we make sure to source as much of our grub from local sources as possible. It's a great way to be eco-conscious and make sure your meals are fresh and delicious. And, while you're out and about, you can eat at restaurants that support local farmers or shop at produce stands in Cahuita. You could even consider going vegetarian during your yoga vacation in Costa Rica as an extra step toward environmental friendliness.
2. Bring a Reusable Bag
Just like you do at home, it can be a great idea to bring a compact, reusable bag on your yoga vacation to Costa Rica. Whether you are buying snacks on your way here, grabbing items from our local supermarket, or perusing for souvenirs at a street market, using your own bag will ensure you are contributing as little plastic to landfills as possible.
3. B.Y.O. Water Bottle
We all know that plastic bottles create tons of waste each year. While drinking water can be a point of hesitation when it comes to foreign countries, it is actually perfectly safe to drink here in Costa Rica.
While we do provide fresh, safe drinking water for our guests at The Goddess Garden, it's a great idea to bring your own water bottle for the on-the-go parts of your journey. And if it still makes you squeamish to drink straight from the tap, you can bring a small water filter or buy a bottle with a built-in filter so you can put your fears about Montezuma's revenge to rest.
4. B.Y.O. Straw
Along with plastic water bottles, a reusable stainless steel straw can be a great way to sip sustainably. Not only do tons of plastic straws end up in landfills each year, they are one of the top 10 most common items of trash found in the ocean. What's more, they can also contain harmful chemicals like BPA. So not only will you be creating less trash during your yoga vacation to Costa Rica, you'll impress your friends when you pull out your trendy tool to sip from a fresh coconut!
5. Use a Bamboo Toothbrush
Of all the plastic we contribute annually to landfills, toothbrushes aren't really on the radar. But they should be! It turns out that billions of plastic toothbrushes land in the trash (or worse: the ocean!) each year.
You may or may not know that bamboo is a fast-growing, environmentally sustainable timber that regenerates itself naturally with minimal rain and without the need for pesticides. The energy it takes to produce a bamboo toothbrush is way smaller than that used to make its plastic counterpart. So, while a biodegradable bamboo tool for your teeth is a great idea at home, it can also be the best dental device for your yoga vacation in Costa Rica!
6. Don't Dump-Donate!
Packing light is always a good idea since less weight means less fuel used on planes and public transport. But you can also be intentional about what you choose to throw away while you're here. Consider packing your trash and taking it back home with you (which will make you more conscious about what you bring in the first place).
You can also donate items that you might not want to take back home with you after your yoga vacation in Costa Rica. Consider giving some clothes to locals to make room for souvenirs in your luggage. You can also bring items just to donate to locals. Pack for a Purpose is a great resource for country-specific lists of things to contribute and where to drop them off.
7. Use Public Transportation
It can be tempting to rent a car when you travel so you have more control over where you go and when on your yoga vacation in Costa Rica. However, public transportation is quite efficient here. The bus system is reliable and can take you to most destinations throughout the country, or you can grab a shuttle down to Cahuita.
Anyway you can consolidate ground transport with your fellow travelers will reduce carbon emissions and reduce wear and tear on the local infrastructure. Not to mention that you'll meet locals and experience culture in a slower, more authentic way. Drinking from a fresh coconut on a cross-country bus is a delicious and unique experience you won't forget!
8. Buy Carbon Offsets
An unavoidable piece of international exploration, air travel is one of the largest individual contributors to climate change. You can definitely reduce the impact of your flight by buying a seat in economy class rather than first (less leg room = more people on the plane, and therefore more bang per gallon of fuel).
But some airlines will allow you to tack on an extra fee called a carbon offset to neutralize the carbon footprint of your flights. This fee supports different green efforts such as tree planting, deforestation prevention, and energy efficient infrastructure upgrades. This can be a great way to make sure your yoga vacation in Costa Rica is as "green" as possible!
9. Adventure With Care
Here at The Goddess Garden, we make sure your adventures are easy on the beautiful habitat that surrounds us. We want you to have fun and feel good about it too! Most of our trips are education-based and purposeful about having a small impact on the environment. From kayaking to jungle hikes, bird watching to supporting local indigenous reserves, you can rest assured that our eco tours are nature-friendly.
10. Stay at an Eco Resort
Since its inception, The Goddess Garden was planned to preserve nature. We used natural clearings in the forest for our buildings so we wouldn't have to destroy any habitats. We heat our water with solar power. We locally source our produce. We dry clothes in the sun when we can. We pride ourselves on our respect for nature and all its flora and fauna, so you can be sure that your yoga vacation in Costa Rica contributes to your love for our planet.
Roaming this beautiful planet of ours is one of the most amazing things about modern life, but it does have an impact on the condition of our planet. Follow these recommendations and get creative on your yoga vacation to Costa Rica and whenever you adventure so you can be a part of keeping our planet healthy for many future generations to explore!