Back in January, we gave you a glimpse at 5 eco tours that have been a big hit with our visitors. While it's a spectacular list, there's so much more to discover in our neck of the jungle! Whether you're an adventurer or an animal lover, we have something for all of our eco-conscious guests.
What's unique about these trips is that they are all best during "Green Season" here in Costa Rica. Surf is pumping, turtles are nesting, and the jungle is green and vibrant with life. It's the best time to explore all we have to offer!
Green Season Eco Tours In Costa Rica You Don't Want to Miss!
White Water Rafting
The Pacuare River is famous for its breathtaking beauty, which is at its best during Green Season. The river is fullest June-December so your guided 18 miles and 38 rapids are the most exhilarating they can be!
Rainfall makes waterfalls spectacular and the jungle lush and vibrant, so while you're not slicing through rapids, you can take in the sights. Birds, sloths and bountiful other wildlife will spy on you as you float, and you may be able to spy back. This is the perfect eco tour for the adventurer and the animal lover in you!
Surfing
While the surf is beautiful anytime of year here in Costa Rica's Caribbean, surf reports say that the waves are best during Green Season. For this eco tour, we'll provide the board and instructor, and all you have to do is prepare yourself for some fun!
If you've always wanted to learn how to surf, this is the perfect opportunity. The water is warm and inviting, and our instructors will make you feel at ease on your board. Whether you're a beginner or a veteran, our waves are totally tubular!
Dolphin Watching
If you're an animal lover, you don't want to miss this opportunity. Seeing wild dolphins in their natural habitat is an unparalleled experience. Our boat guide will take you near Manzanillo, where you'll see bottle-nosed dolphins, tucuxi, and painted Atlantic dolphins.
This is a one-of-a-kind eco tour that allows you to get up-close and personal with these amazing creatures. The dolphins love to interact with and swim alongside the boats, and it's a real treat to watch them jump and play in their pod!
Sea Turtle Hatching
May-November is the most active time for Sea Turtles to nest and hatch here in Costa Rica's Caribbean. You're most likely to encounter a nest or the adult turtles themselves during Green Season while you're exploring our beaches, or you can schedule a guided eco tour.
It's also important to know that these creatures need our help. It is estimated that only 2% of Sea Turtles make it to maturity due to predators, poachers and other environmental factors like ocean trash and boat traffic. If you'd like to get more involved, you can even volunteer some of your time to the turtles before or after your stay at The Goddess Garden at WIDECAST. This is an amazing event you don't want to miss!
Aviarios del Caribe Sloth Center and the Puerto Viejo Jaguar Rescue Center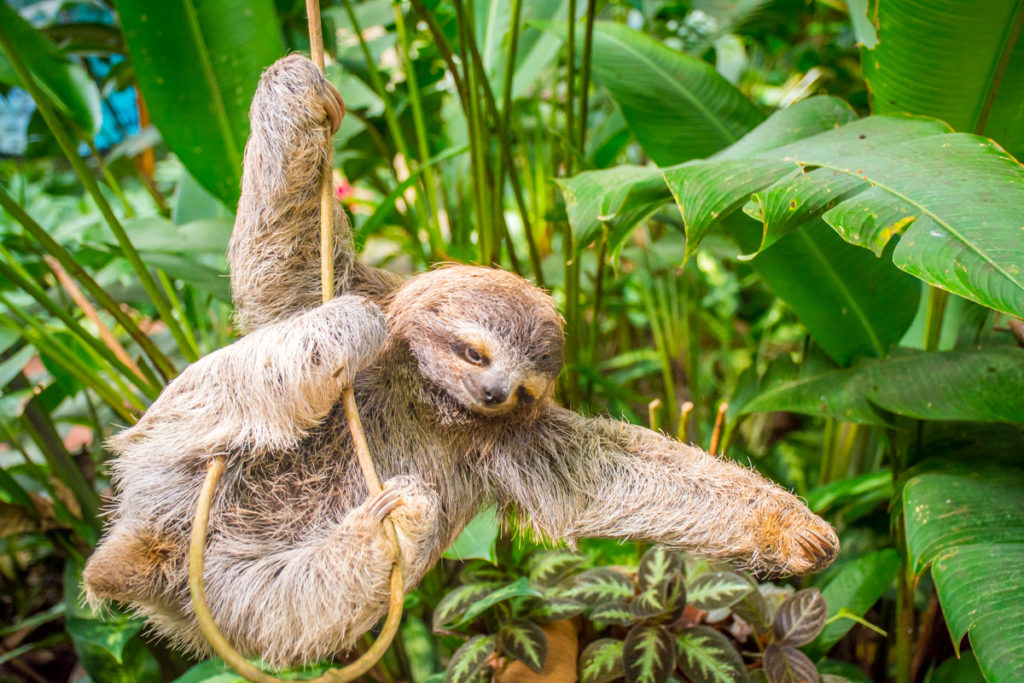 While Green Season is the perfect time to see sloths and other animals in the wild since their habitat in the jungle is flourishing, some of our pokey pals aren't lucky enough to live in the natural environment. Many of our furry friends get injured, are victims of the exotic animal trade, or experience many other misfortunes.
The Sloth Sanctuary and Jaguar Rescue Center Foundation are both dedicated to rehabilitating and caring for these animals, conserving their natural habitat, and informing the public about the importance of their work. By taking one of these eco tours, you are directly supporting all of these injured, sick or misplaced animals. Not to mention that you get an up-close look at some of the most exotic species on our planet! It's a win-win for everyone!
Here at The Goddess Garden, we pride ourselves on our efforts to remain eco-conscious and sustainable. While your vacation with us is guaranteed to be an eco tour on its own, you can add adventure to your experience while being conscious of your impact on the local environment!
Not to mention that the best experiences near our resort happen during Green Season from May-November. And the great news is, everything is less crowded because Cahuita during Green Season is one of the best-kept secrets here in Costa Rica. We invite you to take a look at our availability today and plan your trip to see us this year!