Do you love squeezing as much adventure into your vacations as possible? Are you an "off the beaten path" kind of traveler? Last week, we highlighted some epic eco tours that are the choicest during Costa Rica's Green Season. We want to tell you a little more about one of our all-time favorites: whitewater rafting on the Pacuare River.
This is possibly the most thrilling experience you can find during the Costa Rica Green Season, and it's right in the backyard of The Goddess Garden.
Whitewater Rafting In Costa Rica On The Pacuare River
An Experience Unique to the Costa Rica Green Season
Costa Rica doesn't seem like the first place a person would seek out for a rafting trip. But during Costa Rica's Green Season, you don't want to choose another location! While the Cahuita area around The Goddess Garden has amazing weather June through December, the rest of the country gets a lot of rain. This means full rivers, and the best rafting experience you could hope to have.
Imagine floating a beautiful river through the rainforest. The tranquil noise of the water is accompanied by the sounds of tropical birds, insects and other wildlife. You've found your nature-loving bliss.
All of a sudden, your raft guide goes into action mode. Everyone is paddling as you're swept into the rapids. Your team works together to navigate the ups and downs as your raft is tossed among the waves. Then the water calms, and you again find yourself in a floating oasis.
This eco tour is the perfect mix of finding your Zen with nature and embarking on a one-of-a-kind thrill ride!
Fun For All Levels
Whether you've never been rafting in your life or you're an old hand at the paddle, rafting during the Costa Rica Green Season is sure to be a rewarding journey. Our experienced guides will help you feel at ease. A new adventure can sometimes seem scary and daunting, but your rafting guide will be with you every step of the way.
Not only will your trip be safe, but you'll learn a ton along the way. From tips about the sport of rafting to tidbits about Costa Rican flora and fauna, you'll finish your trip with lots of new knowledge to share when you get home!
Maximize Stress Relief On Your Yoga Vacation
Of course, everyone who sets out on a vacation of any type is looking for stress relief. A yoga vacation during the Costa Rica Green Season is only going to enhance that escape from the day-to-day chaos. But the rafting community can't say enough about the stress-relieving potential of a float down the river.
We have done our research, and we know for a fact that water is an important stress reliever for humans. The blissful escape that you'll experience in the calms and the workout you'll get in the rapids will combine, and you're guaranteed to come out of your eco tour with nothing but a clear, happy soul!
It's Great Exercise!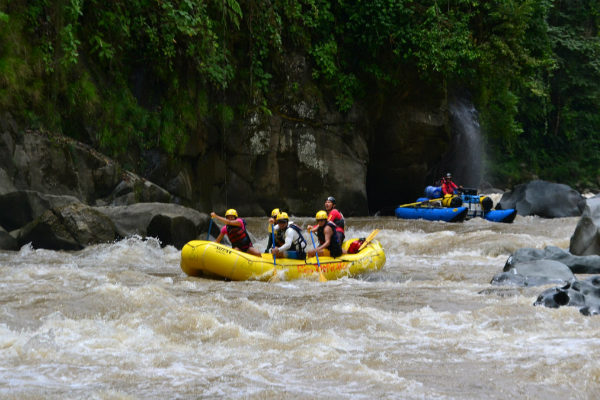 Since you're on a yoga-centric vacation, we're going to assume you're into fitness. A fierce paddle is an unexpected full-body workout. While we can give you many sweat sessions in our open-air yoga studio, you'll get epic exercise with this choppy water challenge.
There is nothing quite like an action-packed trip down the Pacuare River during the Costa Rica Green Season to boost your endorphins and your self-esteem! The sense of accomplishment you'll get from besting the rapids is unparalleled. This is one training session you don't want to miss!
Super Charge Your Yoga Vacation With Adventure
While we think a rafting trip down the Pacuare River during the Costa Rica Green Season is the tops, we definitely have plenty of other adventures if power paddling isn't your thing. Thrill seekers and low-key adventurers alike will find something to excite them when they visit us at The Goddess Garden.
Bird watching, jungle hikes, zip lines, surfing, tours with indigenous tribes: these are just a few of the fascinating opportunities you'll have as our guest. No matter what you choose to do after your daily yoga sessions, it's a sure bet that your vacation with us during the Costa Rica Green Season will be the most unique and memorable you can imagine!