As a traveler and lover of Mother Earth, what is it that draws you in about taking a trip to Costa Rica? Is it their conservationist attitude? Is it the rich biodiversity? Is it the beaches, or perhaps the rainforest? These are all reflected in Costa Rica's national park system. With more than 25% of its land classified as "protected," you're sure to find plenty of parkland to explore well within reach of your stay at The Goddess Garden in Cahuita, Costa Rica!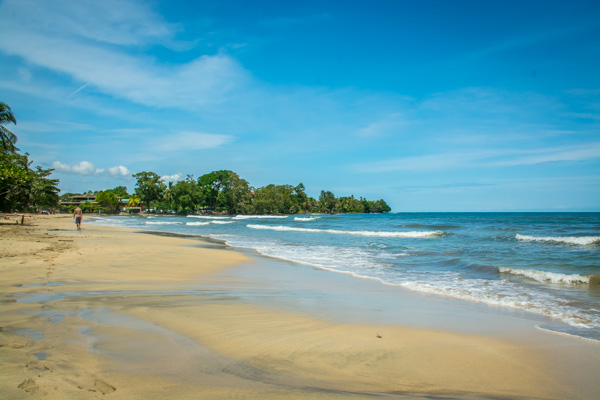 With a rich variety of climate, landscape, wildlife and location relative to hot spots in the country, any traveler is guaranteed to find something to awe and inspire them in Costa Rica's national parks. From cloud forests to coral reefs, volcano craters to mangrove forests, it's possible to have several vacations in one!
#10: Guanacaste National Park
A conglomeration of adjoining habitats, Guanacaste National Park is the furthest from Cahuita, Costa Rica, but definitely still a must-see on this list. It was created in order to improve the survival rates of local flora and fauna, and spans several ecosystems between the Orosi and Cacao volcanoes.
This park is ideal for hiking, with ample trails spanning the area. Birdwatchers and wildlife enthusiasts alike will find plenty to enjoy, with many species of bird, monkey and other animals to encounter along the way. Permission from National Parks Services in San Jose is required to visit the park, but to make it worthwhile, room and board is available at one of the park & biological stations for a more immersive experience.
#9: Arenal Volcano National Park
Quite possibly most thrilling park on this list, Arenal National Park is home to one of the world's most active volcanoes. Hiking and horseback riding can give you an up close experience in this breathtaking protected area. Along with the incredible biodiversity of this region, smoldering cinder blocks, vibrant lava flows and old lava beds make for one-of-a-kind outdoor adventures.
Although venturing near an active volcano may seem risky, the last major eruption of Arenal Volcano was in 1968, and park officials' first priority is the safety of visitors- they will not hesitate to shut down the park if conditions become unsafe. So, intrepid explorer, feel free to roam about and take in all you can in this unique, awe-inspiring national park!
#8: Corcovado National Park
Even though Corcovado National Park is on the Pacific side of the country on the Osa Peninsula, it's worth the journey from Cahuita, Costa Rica to see it. Rich in national history and biodiversity, Corcovado is full of wildlife, beautiful views and lore. It has been called "the most biologically intense place on Earth in terms of biodiversity" by National Geographic.
It's also quite possibly the most untamed area of Costa Rica, and visitors are required to venture into the park with a certified professional guide. This caveat is totally worth it, as this area is absolutely breathtaking. Monkeys, birds, snakes and many other tropical critters inhabit the area, as well as plenty of exciting marine creatures such as sea turtles, sharks, crocodiles, dolphins and whales.
#7: Poás Volcano National Park
Being at the Poás Volcano can feel like being transported to a different planet. It is considered by most to the one of the most breathtaking sites in the entire country. Soaring to 8,885 feet, Poás is one of the Costa Rica's largest and most active volcanoes, making it a popular destination for the adventurous at heart, although it is definitely one of the most developed parks in Costa Rica. One of the most notable traits of this location: from this elevation, on a clear day, it is possible to see both the Pacific and Atlantic coasts of the country.
#6: Turrialba Volcano National Park
One of the least visited parks in Costa Rica, this area could be your answer to getting away from it all, even if only for a day. Responsible for the March 2017 closings of the San Jose airport, Turrialba is Costa Rica's most recently active volcano. This park may be reserved for the more daring traveler, but is surely worthwhile to venture through for its lunar-esque landscapes (there are three well-defined craters at the top!) and beautifully dense forests.
#5: Los Quetzales National Park
Since it was declared a national park in 2005, Los Quetzales is the most recent addition to Costa Rica's huge park system. It contains three types of rainforest and fourteen different ecosystems. Mostly cloud forest along the Talamancan mountain range, this park is home to the rare quetzal bird (the namesake of the park), which makes it a popular destination for avid birders. Mountains, lakes, cloud forests, rainforests and rivers make this a must-see park for anyone staying with us in Cahuita, Costa Rica.
#4: Parque Nacional Tortuguero
A very popular turtle nesting site in the country, Turtuguero National Park (literally 'Region of Turtles' in Spanish) is easily accessible from Cahuita, Costa Rica. As one of the most important nesting areas in the Western Hemisphere of the endangered green turtle, it's no wonder that Costa Rica has protected this beautiful area.
If turtles aren't your cup of Costa Rican coffee, the park is also a wildlife sanctuary for monkeys, jaguars, green macaws, tapirs and many other mammals, birds and reptiles. A guide is required to visit the park after 6pm so as not to disturb turtles during their most popular nesting hours, but seeing them in action can be one of the rarest and most unforgettable experiences of your life!
#3: Chirripó National Park

Photo by Peter Kaad Andersen
Another of Costa Rica's uncrowded parks, Chirripó is easily accessible by foot even though the terrain can be quite rugged. Home to Costa Rica's highest peak, Cerro, Chirripó Grande, this is another location in the country where it's possible to see both coasts simultaneously. Although this can be an arduous trek, the mountain's nine-mile trail to the top contains mountain huts to spend the night along the way.
With its high-up breathtaking views, this national park can be even better than the typical zipline or canopy tour so popular in Costa Rica, since your feet are planted safely on the ground, you can take as much time as you want, and it's totally free! Plus, it's quite close to us in Cahuita, Costa Rica!
#2: La Amistad International Park
As the largest protected region in Costa Rica, La Amistad International Peace Park spans from Cahuita, Costa Rica nearly to Playa Hermosa on the Pacific Coast and down past the border into Panama. The region contains the most virgin forest in the country and houses about two-thirds of its total species.
Home to six species of tropical cat, 300 reptile and amphibian species, not to mention a plethora of fish and monkeys, the animal enthusiast will not be able to resist this rugged adventure. What's more, insect and plant nerds will delight in the biodiversity here, and shouldn't even bother counting species, as new ones are being discovered at an astounding rate.
#1: Cahuita National Park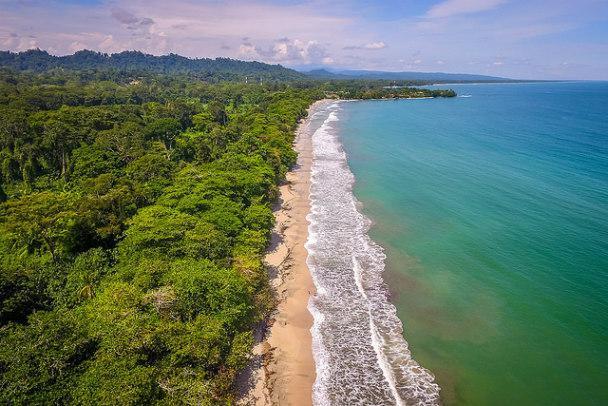 Its close proximity to our location in Cahuita, Costa Rica is not the only reason Cahuita National Park is our favorite. Since it protects rainforest, mangrove, river, beach and coral reef, there is a myriad of things to do and see here. There is something for every type of traveler here: you can relax on the beach, go snorkeling or scuba diving, go whitewater rafting, learn to surf, kayak, ride horses, hike, go ziplining….the list goes on and on!
Costa Rica has worked exceptionally hard to protect the ecological diversity within its borders. It is the global leader for percentage of land reserved for natural habitat. In fact, there is so much to see that you may have to come stay with us again in Cahuita, Costa Rica just to get it all in! Visits to our national parks will make your Costa Rican vacation complete. Check out our availability today to get your epic adventure started!