It's that time of year again! It's time to reflect on the past year of our lives and start to set goals for the coming one. Not all New Year's resolutions are major, but if you're looking to revamp your life in a big way, a yoga teacher training in Costa Rica could be just the thing to start your year off with a bang.
Why A Yoga Teacher Training In Costa Rica Should Be on Your Bucket List
1. Rekindle Your Love Affair With Yoga
Whether you intend to teach after your training or not, 2 weeks of intensive focus on yoga will recharge your practice and your life. This is the perfect opportunity to commit deeply to yoga and find out what it means for you. Not only that, but you'll also build a rock solid foundation for your practice. It may not seem like a lot of time, but these 2 weeks will change your year and your life.
2. Make Meditation a Habit
You know you want meditation to be a part of your daily routine, but with a busy schedule, it can be hard to "fit it in." After your yoga teacher training in Costa Rica, you won't want to live without it! Plus, it will be part of your daily routine while you're here, so you'll develop habits to help make it stick.
3. Kick-Start Clean Eating
A lot of New Year's resolutions revolve around food. Everyone wants to eat healthier, but it can be challenging to start. During your yoga teacher training in Costa Rica, you have no option but to be healthy. Our delicious, locally sourced grub will cleanse and nourish you with clean energy, and get your body and mind on board with better food choices. We can even work Ayurveda into your meals so you're sure to be eating the best food for your unique dosha.
4. Begin the Year With Bliss
It's always best to start something new with your best foot forward, and we can think of no better way to set the tone for your year than with 2 weeks with us. Daily yoga and meditation to the sounds of waves crashing and exotic animals living their lives in the trees: this is total bliss! At our resort, you'll have time and space to roam and explore the beach and the jungle, taking in all the vibrant plants and meeting beautiful new creatures along the way. This is every day at The Goddess Garden!
5. Come Grow With Us!
Your leaders during your yoga teacher training in Costa Rica have your personal development at the forefront of their goals. We only partner with the best, most experienced teachers so you're sure to get the most out of your time with us. Your training will provide you with ample opportunities to discover, learn and grow. We want to guide you on your path to explore new worlds, inside and outside of yourself.
6. Find Your Tribe
One of the most amazing things about a yoga teacher training in Costa Rica is the people it attracts. Not only will you have access to amazing teachers to guide your quest for knowledge and growth, but you will also create lifelong relationships with your fellow yogis. Nothing beats 2 weeks of intense study with a group of like-minded people who are fully invested in you and your well-being. It's a deeply meaningful shared experience that will keep you tied to your new friends for years to come.
7. This is a Vacation That Really Pays Off
After the chaos and stress of the holidays is a great time to give yourself a break and get away for a while, but imagine a vacation where you also learn new skills and come home with a new career option. So, not only will you be discovering a new country and enjoying lots of peace and a healthy lifestyle, but you'll be adding value to your time off by discovering yourself and your truth along the way. (Psst…we also have an Ayurvedic spa so you can sneak in some much-needed post-holiday pampering!)
8. Your Time is Valuable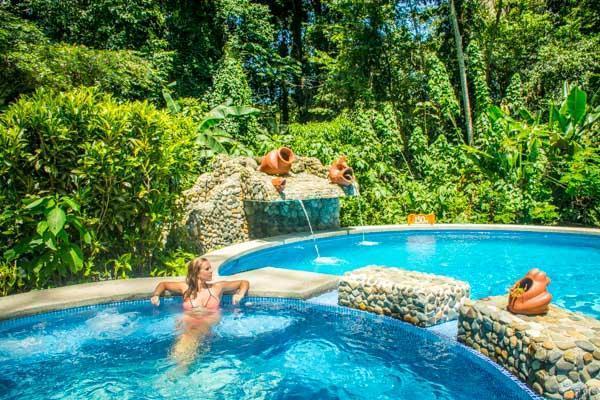 Arguably one of the best things about our shorter yoga teacher trainings is that you can essentially take your vacation and come back a certified teacher. It's multitasking at its finest! We get it- you probably have many other commitments and obligations, so it can seem like you lack the proper amount of time to follow your dream of becoming a yoga instructor. If you don't have an entire month or more to dedicate to your 200-hour yoga teacher training, this is the perfect place for you!
9. Your Path Will Unfold in Front of Your Eyes
If you want to start your year off with some serious soul searching, then you belong here with us. An immersive yoga teacher training in Costa Rica is the perfect way to discover your true path in life. Ours is an excellent setting to focus inward and get a sense of renewed vision for your direction. We want to help you live your truth and unleash your true potential, this year and always!
10. Your Life Will Be Changed Forever!
We truly believe that starting a fresh year with a yoga teacher training in Costa Rica is an excellent choice. This will be a wholly transformative experience for you that is guaranteed to impact your life in a positive way. A genuine group of new friends and mentors. Fresh, healthy lifestyle changes. A revitalized sense of focus and direction. 2 weeks of bliss and nothing but. 2018 can truly deliver a new year and a new you!
If starting your new year with an amazing, life-changing experience sounds just right, we would love to have you join us. We have plenty of sessions lined up for the beginning of the year, so come check it out. This is the first year of the rest of your life. Start it with a yoga teacher training in Costa Rica!